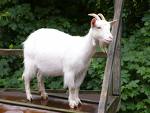 De curand, citind un articol de pe codinghorror.com , mi-am dat seama ca eram un practicant anonim si inocent al acestei interesante ocupatii "informationale", care are un nume pe masura ei : goating.
Ce este goatingul? Facand putin studiu pe internet am aflat ca de fapt termenul s-a sublimat din limbajul urban pre-internet, unde insemna de la
"In an atmosphere of bonhomie, possibly at a party, a member of the group will put his glass to one side and suggest a spot of goating. The group will then drop trousers and pants and chase each other round the room, trying to stick their fingers up each others bottoms. It is recommended that particular attention to cleanliness is observed whilst making one's toilette."
pana la
"Variation of the practice of dogging, comprising of a younger individual soliciting sex with an Old Age Pensioner of either gender. Can also be used as a term of abuse for the other half of a relationship containing a cradle snatcher."
Destul de bolnav …
Totusi, in era moderna, goatingul poate apare ca "the act of going to a public place ( such as a bar ) with a bluetooth enabled device, scanning for other bluetooth enabled devices that openly accept transfers, and sending a copy of the Goatse image to them." Nu vreti sa stiti ce reprezinta o imagine Goatse 🙂
vezi dictionarul urban – goating.
Aceasta are ca varianta "de birou", surprinderea unui coleg ce isi lasa calculatorul neparolat si fie navigarea
spre, sa zicem http://en.wikipedia.org/wiki/Goat sau instalarea ca poza de background a unui poze cu o capra, normal. Variatii ar fi schimbarea parolei (nu prea subtil), instalarea unui screensaver parolat cu un screenshot al desktopului, instalarea appletului acesta sau orice alt lucru, dar parerea mea este ca se deviaza de la spiritul ortodoxiei goatingului.
Revenind la istorie, imi amintesc cum practicam goatingul din cele mai vechi timpuri, un moment de glorie fiind cel in care am introdus intr-o aplicatie data lui R. o functie care reda random un wav in care ma inregistrasem zicand, in stilul caracteristic, "R. , sugi pula!". Desigur ca au fost multe alte astfel de evenimente, unele in care am castigat, altele in care am pierdut, asa e viata …
Cuprins fiind de frumusetea acestei ocupatiuni, am vrut sa cumpar goating.com, dar din pacate este cumparat, si parcat intr-un mod foarte urat. Pacat …
Oricum, happy goating! Prietenii stiu la ce ma refer 😉