Candva, o cunostinta de-a mea mi-a spus ca propun vizitatorilor mei "a culture of death" prin prisma creaturilor si obiectelor care isi fac veacul pe biroul meu. Hai sa vedem despre ce este vorba:
In primul rand, o imagine de ansamblu: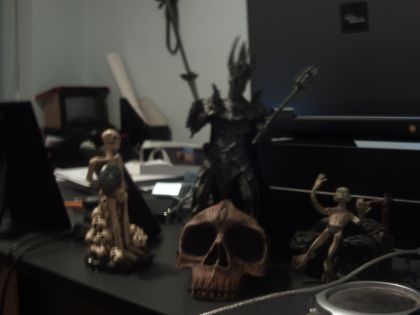 Oh shit, se pare ca avea dreptate. Dar sa vedem in detaliu despre cine este vorba …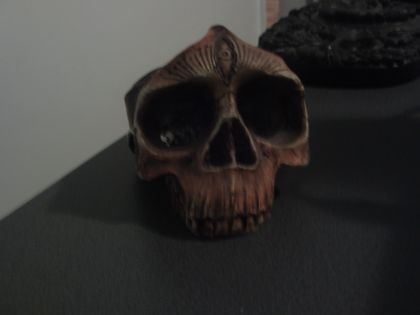 Scrumiera craniu este o entitate inanimata de pe birou, avand trista functie de a se umple de tigari si ocazional a se varsa pe jos.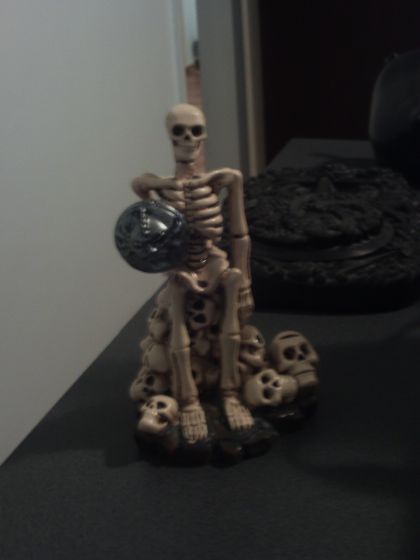 Scheletul (cumparat probabil din Obor) avea initial un cutit de desfacut scrisori, care insa i-a fost furat miseleste de Sauron …
Sauron, the Dark Lord, este stapanul neincoronat al biroului. Cu buzduganul si sabia din dotare pune la punct orice creatura care incearca sa faca figuri. In plus, are si niste placeri perverse, asa cum o sa observati mai incolo.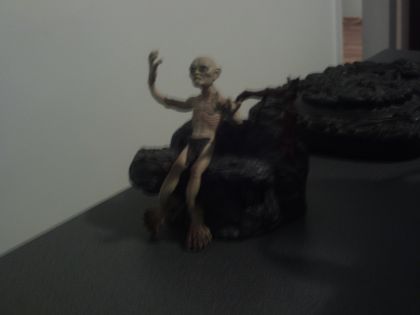 Gollum, se tareste din cand in cand pe birou, reusind pana la urma sa fure inelul. Destul de sclav in mare …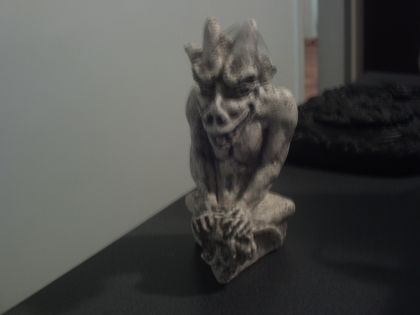 Un gargoyle din ipsos cumparat din Mont st. Michelle, care din pacate s-a spart si inca nu am avut timp sa-l lipesc cu superglue. Destul de sters pe ansamblu.
Sa vedem ce activitati se intampla in lipsa mea pe birou: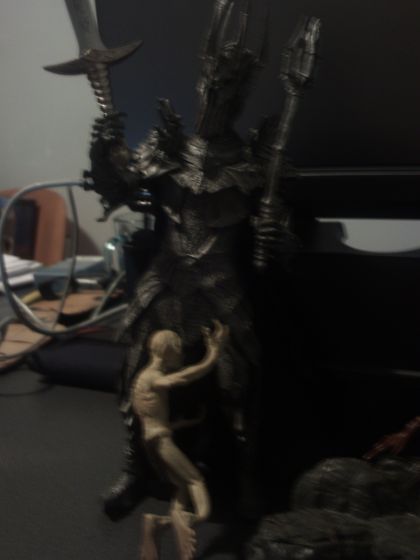 Oh no … Gollum ii suge pula lui Sauron. Destul de de inteles de fapt … Sauron e Sauron ce pula mea.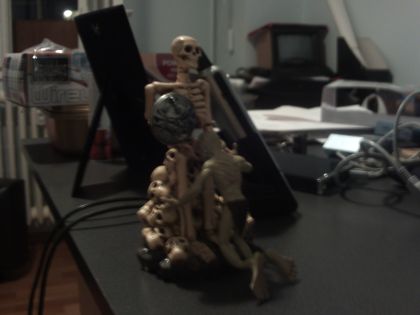 Mda, vad ca lui Gollum chiar ii place; desi nu ar fi nevoie avand in vedere balanta de putere, ii suge pula si scheletului …
Cam atat for now.